Destination Cabo San Lucas March 01, 2015 04:30 2 Comments
Cabo San Lucas
Where the dry desert, the Pacific Ocean and the Sea of Cortez all meet, lies this Mexican resort filled vacation destination. A dramatic landscape and brilliant colors drape this natural wonderland. Cabo has an air of mystery that is easy to be drawn into.
The once quiet and peaceful fishing village and past pirate hangout, is now a sought after vacation destination. However, the locals respect for the land has led its protection. That makes Cabo San Lucas the only coastal resort in Mexico with a nature preserve within its city limits.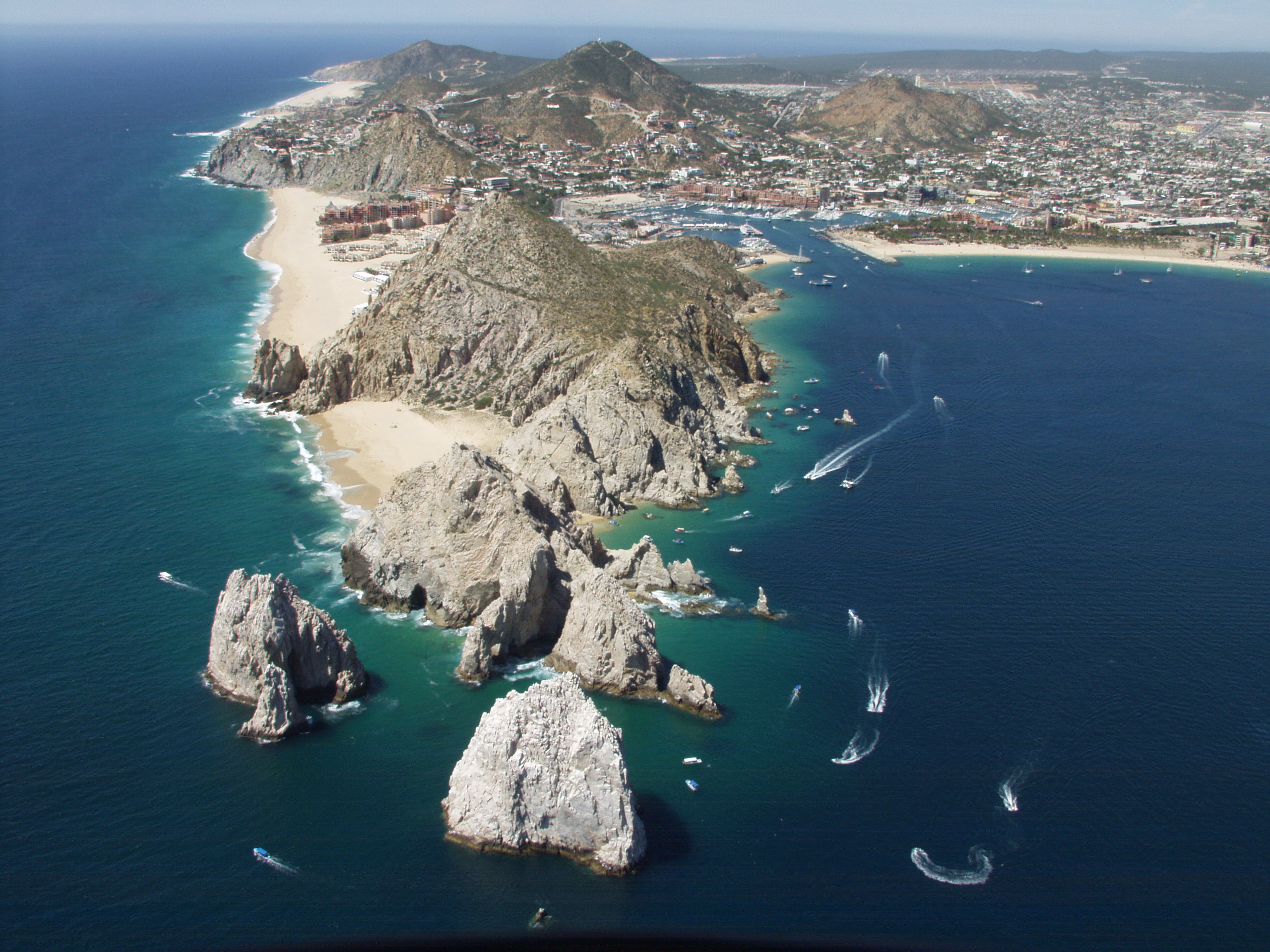 Active
The full service marina, underwater nature preserves and striking Land's End Rock formations are just the beginning of the incredible sights to explore. Active-minded folks can try their hand at various water sports; snorkel in the Sea of Cortez; experience world-class fishing, rock climbing, hiking; or golf at one of the championship courses.
Dive/Snorkel
The Sea of Cortez is located between temperate waters and tropical waters. You can see it's famous sand falls (streams of sand moved by currents that fall over underwater canyons), large schools of jack, tuna, dolphin, and marlin, and even catch a glimpse of whales. The best time to catch a peek is from January to March while they are migrating through. A fortunate scuba diver may also encounter manta rays, hammerhead sharks, and even whale sharks.
Hiking
A trek through the desert is absolutely spectacular. It's best in the winter, with the temperature being more manageable. It's highly recommended to hire an experienced guide from the area. The desert offers incredible rock formations, unique vegetation and wildlife native only to this region. Hiking can be for all ages and hiking in Cabo's desert is something that you will remember.
Horseback Riding
Horseback riding is available for all levels of riders at several stables in the Cabo San Lucas area. You are generally accompanied by a guide, and the scenery can vary from desert, to beach, or even natural rock formations backdrops. Either way it is a great way to see much of Cabo San Lucas' scenery.
Relax
For those who prefer a more relaxed vacation, just remember, this is a place that appreciates siestas, and has some of the most beautiful beaches for lounging in the sun. Whether you are looking to discover a quiet beach cove, local shops, or fabulous restaurants, you will always find something to do, even if that something is to do nothing!
Cabo Wabo
The cantina is Cabo's most famous club, owned by Sammy Hagar. You might even get to watch one of his impromptu performances. The Cabo Wabo also offers a menu filled with American and Mexican food to feed your hunger.
Lover's Beach
This beach is also known as Playa Del Amor, and is another must. However, you'll need a water taxi, personal boat or kayak to get there. Lover's Beach is surrounded by towering rock formations and is hidden behind Cabo San Lucas' landmark arch, El Arco, at Land's End.
Visiting Cabo San Lucas?
Cabo is located at the southern tip of the Baja Peninsula in the State of Baja California Sur. Cabo San Lucas is approximately 20 miles southwest of the Los Cabos International Airport. This tropical desert paradise enjoys an average year-round high temperature 70-80s, and temperature cools to the 60's at night.
If you have visited Cabo San Lucas before, let us know what favorite spots and activities you enjoyed. If you would like to visit Cabo some day and have questions, let us know.
Top All Inclusive Resorts: #6. Grand Velas All Suites & Spa Resort All Inclusive - Nuevo Vallarta, MX